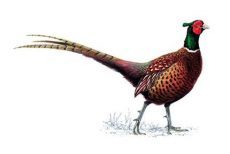 Pheasant Season
Pheasant 2021-2022
We have secured the lease of the Hoekstra Farm again this year. We will be holding several additional hunts and will hold a youth hunt. Hunting is from 9a till dark. Remember to keep dogs under control (leashed) until you begin hunting and after you have finished in order to not disturb the farm animal or other hunters. There are cows, calves and ducks, guinea hens, and turkeys raised by the farmer. Any farm animal killed will have to be reimbursed- please don't let this happen. We are also only allowed to hunt pheasant and chukka so no shooting ducks, turkey, rabbits etc. Don't ask the farmer about hunting other species- he has been asked and offered but we can't afford to pay. He does allow several persons to deer hunt. No we cannot. Enough said. We have expanded hunting to the entire week after stocking (we used to be limited to four days). Also please don't shoot near the cows or across the property borders. Please remember to sign in and sign out- it is really important to provide usage reports. Please come out and help stocking!! Good Hunting. Below is a map of property, directions and stocking dates.
If you have any questions, ask the Chairperson-Bob Bready 845-883-5935
Chairman: Bob Bready 2021 agreement has been agreed upon for pheasant land to hunt.
Please click on details below:
Directions
Schedule To be updated soon
Bird Lease Rules To be updated soon
Farm Parking
In order to learn the property come with another member who has been here before or contact Bob Bready.
Any questions, or concerns, please direct them to:
Bob Bready
Pheasant Chairperson
845-883-5935
bjbready@aol.com