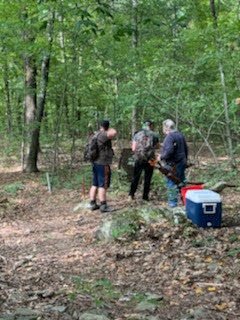 3D archery refers to shooting at three-dimensional life-like targets – normally made from foam and situated in such a way as to simulate a true-to-life hunting experience. It was originally used as hunting practice, as such most of the targets were shaped like game animals, but 3D quickly evolved into a sport of its own, with rules, scoring, and a nearly limitless targets.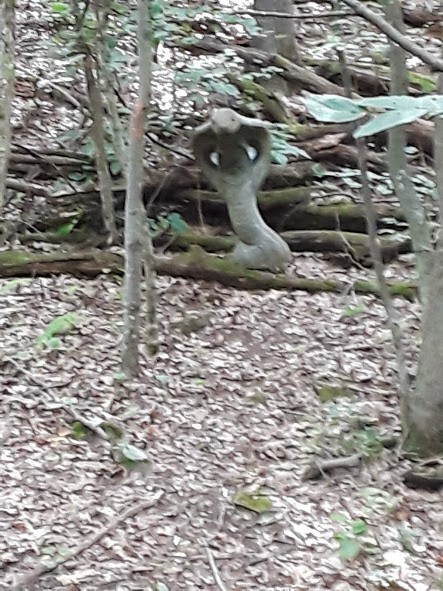 3D archery can make for a fun family outing.
As such, 3D is a great way to get ready for an upcoming hunt, or to just have some fun. It can be practiced alone, with friends, or family. In fact, it's common for young children to participate in 3D. It's a great way to experience the outdoors (if shooting at an outdoor range) and gain experience in shooting your bow in a realistic situation.
Before you head out to the range, there is some basic equipment you should bring with you. That said, there's no special 3D bow that you'll need; just shoot the bow you're most comfortable with or the bow you plan to hunt with. You should use field points (don't shoot broadheads at 3D targets!), 6 or more arrows, it's a good idea to have a pair of sunglasses handy, some sunscreen, tick/mosquito repellant, an arrow removal tool, a decent quiver, range finder or binoculars, a stand for your bow, a towel for your hands and gear, and some arrows. Many outdoor shoots can be a mile or more in length, so it's a good idea to bring something to snack on as well as some bottled water, but please don't litter.
If you plan on shooting for score, a pencil and scorecard will normally be provided. Misses do happen and arrows will be lost (arrows are a lot easier to find with lighted nocks). When you do miss the target, don't take too much time looking for the lost arrow, as it will slow down the whole event.
Most ranges will charge a small fee for shooting, whether you're competing or not. This money covers normal wear and tear on the targets and on the range.
On how 3D is scored; typically, the high score shots will be in the vital section of the animal you're shooting at. There are two primary scoring formats used: ASA and IBO. The ASA, or the Archery Shooters Association, uses 14-12-10-8-5-0 scoring areas. The IBO, or the International Bowhunting Organization, uses 11- 10-8-5-0 scoring areas.
When shooting for score, one arrow is shot at each target; the score is determined by where the arrow enters the target. Below is an example of what the ASA and IBO scoring rings look like.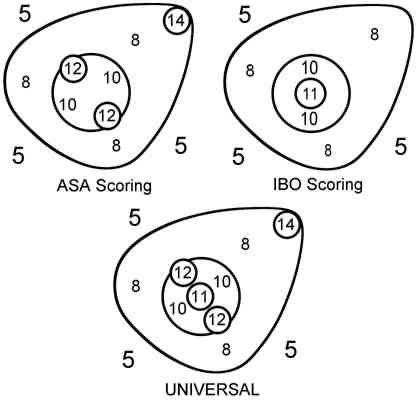 Most 3D shoots will have a variety of shooting stands per target to accommodate all skill levels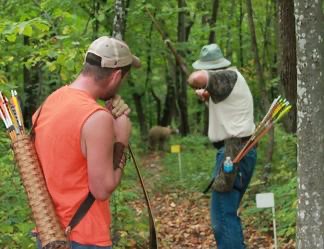 Upon arrival:
Sign in/register and get my score card
Head to the practice bags and shoot at each one that I have a pin set up for to make sure they're all sighted in. I double check my arrows, release and bow to make sure everything is in good shape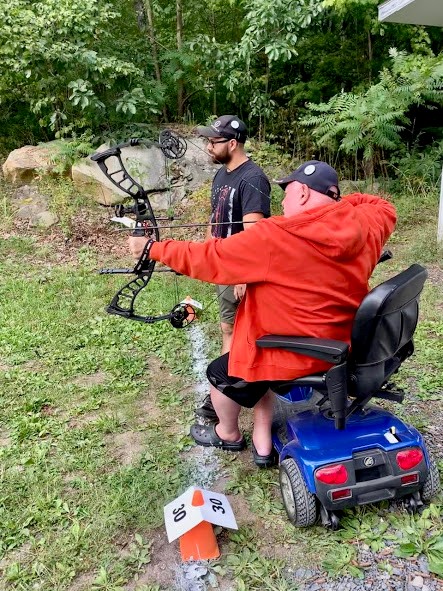 When shooting at a target it is wise to have a routine, a series of steps you follow to help you become comfortable and more consistent. These steps may be a little different for each person but once you start doing things in a way that works keep doing them the same way EVERY TIME.
It's important to remember these tournaments/shooting events are for fun and to help you improve. Bad shots will definitely come and you'll more than likely miss a few targets. Don't stress too much about those because they have happened to everyone at some point and they help you learn from your mistakes. So good luck to all you beginners and remember to have fun!
Note: If you plan to consistently shoot year after year a camping stool of some sort and/or a daypack may be a good investment.