NO Monthly Membership Meeting Nov. & Dec. Bird Stocking on Sat 12/08. Stocking at 7a and hunting begins at 9a.
Your Family Fun Sportsman Club
–
President's "A" Club Drawing
Presidents Club drawing numbers for
Oct. 103
Nov. 25
Dec. 161
–
Off Site Courses

PLEASE VISIT
CLICK HERE for class information
CLICK HERE for dates and scheduling
Adaptive Shooting Sport
592 Route22 – Suite 2A
Pawling, NY 12564
Pheasant Preserve Update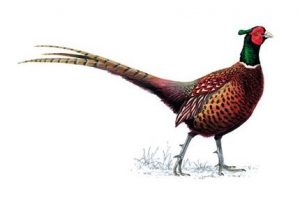 We have signed an agreement and have pheasant land to hunt.
Please click on details below:
Lease Agreement – Directions
Bird Lease Rules
Farm Parking
Stocking Schedule
Any questions, or concerns, please direct them to:
Bob Bready
Pheasant Chairperson
845-883-5935
bjbready@aol.com
–
12-8-2018 Update
Stocking Sat and Sun this weekend (Dec 8th). Hunting still thru Wed. Come out and help and hunt. Enjoy; Please see rules above.
Thank You
Bob Bready
845-883-5935
bjbready@aol.com
–
Big Horn Contest
Largest Rack 2018
$5.00 entry fee
See flyer here for details, entry form and rules > click here
Contact Mike Schetter more information. 845-453-6666
Veterans Page

A new Veterans Page has been added to our website; click here, or menu.
Need your Veteran records; click below:
https://dmna.ny.gov/forms/sf180/
https://dmna.ny.gov/forms/sf180/sf180.pdf
–
Announcing BRG Bounty of the Harvest Game Dinner during winter of 2019. Date TBD. Stay tuned. Asking for donations of Game, Fish or Fowl. Please put aside some of your catch to donate to the dinner. Want to show off a prize dish, we will take that too. More info to be posted soon. Questions or wanting to help contact Chairmen Bob Bready.
–
Newest Life Member: Rich Tombs Sr. (center)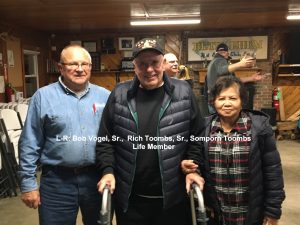 Trap Update

The first Sunday of every month (weather permitting) will be the "Trap Shooting Social" and everyone is invited.
We'll shoot from 10am to 1pm. After the shoot, we'll enjoy food and drinks and conversation at the pavilion.
If you're a regular or never shot trap before … we'll have experienced Trap Committee personnel there to get you started and feel comfortable in a short time. Come join us. Guests are welcome to shoot ($5 per round guest fee applies). Bring your shotgun and ammunition. The clay targets, food and drinks are all part of these special days. So come join us!
Michael Hall Sr. 845-565-5881
–
Up-Coming "Harvest of the Bounty"
Feb. 23rd, 2019
Watch out for more details.
We are still looking for game donations so anyone wishing to donate meat or fish,
please call Bob Bready
bjbready@aol.com
–
Lake Rules
The lake rules were voted in AS IT SAYS ON THE SIGNS THAT ARE BY THE MAILBOX.
for more information contact
Pete Crisci
mistern1961@gmail.com
–
Special Notices / Announcements

–
March 26, 2018 Current By-Laws