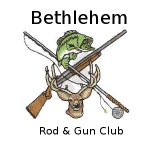 2016 BRG Election Results
President – Bill Wiseman
Vice President – John Kirk
Treasurer - Alan Somer
Financial Secretary/Membership – Bob Vogel Sr.
Recording Secretary – Robert Bready
Board Members
Brian Hetherly
Pete Crisi
Klaus Jonietz II
Lenny McNair
NOTICE – EFFECTIVE IMMEDIATELY – July 26, 2015
Use of all steel plates and steel targets has been suspended by club management. In addition, members shall not use their own steel plates, targets or spinners. Only approved target stands and paper targets are allowed until further notice. Members are requested not to take steel plates out of the storage shed until further notice.
NEW RIFLE / PISTOL RANGE RULES
Click here to view the new range rules. All members should familiarize themselves with the revised rules before using the range.
Big Game Season began on 10/1/2015. Rifle/Pistol hours now in effect are – 10:00 AM – 2:00 PM and from 30 minutes after dusk until 9:00 PM.