Your Family Fun Sportsman Club  
–
President Stepping Down & Vote On New President
The demands on my time continue to increase and I find that I no longer have the time to devote to being president of Bethlehem Rod and Gun Club.
As of June 1, 2017, I am stepping down as President. I will turn over the keys, president's badge and club materials, in my possession to John Kirk, vice president.
It has been my pleasure to serve as President of BRAGC.
Sincerely,
Bill Wiseman
************************
Since the President has stepped down, a Special Election will be held during the June Regular Meeting. During the June meeting nominations will be accepted from the floor. Vote will be by secret ballot by the members present. Succession will be by majority vote of the members present and voting. This will be held in accordance of BR&G Bylaws.
Bob Bready
–
2017-2018 Dues Collection Schedule
June
3rd Saturday 9am to 12 noon
14th Wednesday 6pm to 7:30 pm
17th Saturday 9am to 12 noon
26th Monday 6pm to 7:30 pm
and after the meeting
28th Wednesday 6pm to 7:30 pm
July
1st Saturday 9am to 12 noon
2017-2018 Dues are as follows:
Adult $125.00
Senior $50.00 65 years and older
Spouse $35.00
Junior $35.00 12 to 17 years of age
Life none due
Required work hours:
Adult 8 hours
Senior 4 hours
Adult and Senior members are assessed $10.00 for each hour not worked.
Life – Spouse – Junior members none required.
Payments by Mail:
Include dues and work hour assessment (if due) and $3.50 for postage.
Send to–Bob Vogel Sr.
51 Elm Lane
Pleasant Valley NY 12569-6027
If the posted schedule does not fit your schedule; call me to meet at your convenience.
Note–We'll be set up in the pavilion with the exception of bad weather.
Thanks Bob Vogel Sr. 845 206 6784
–
2017 BR&GC Triathlon
July 8, 2017 10 a.m. – 2 p.m.
Are you the next Top Shot?
Format: You Pick Your Three events from the following. Scores from each event will be totaled to determine our Top Shot.
Some important rules:
• All participants MUST be registered prior to shooting for scores.
• All participants MUST wear eye and ear protection.
• All participants MUST follow the commands given by the Range Officer.
• All guns MUST be cased or holstered, when travelling to your selected events or you will be disqualified.
• All guns will be unloaded and cased until such time as the Range Officer calls participants to the line at which time the Range Officer will give the command to uncase and load.
• All weapons will be pointed DOWN RANGE once the command to load is given.
• Pistol Shooters MUST have a valid NYS pistol permit and produce it on demand from the Range Officer.
• Total score determines winner. Tie breaker is TBD.
Rifle Event: .22 caliber rifle, scoped or iron sights. Standing / Offhand (no support) shots at metal targets at 25 yards. 15 shots for score.
Pistol Event: Any caliber handgun, scoped, aimpoints, or iron sights. Standing / Offhand (no support) shots at metal plates and/or rubber spinners at various distances from 10-25 yards. 15 shots for score.
Shotgun Event: Any gauge shotgun. Trap field firing at 15 clay birds from 5 different positions for score.
Archery Events: Pick your bow – Compound or Traditional. 15 shots at five 3D targets at various distances.
Centerfire Rifle Events: 5 shots at a steel target at 100 yards. No green tip ammo.
Prize money will as follows:
1st place: 30% of pot
2nd place: 15% of pot.
3rd place: 5% of pot.
Where: Bethlehem Rod & Gun Club, New Unionville Rd, Plattekill, NY
When: July 8, 2017
10 a.m. – 2 p.m.
Cost: $20 per entry with lunch included.
Darren is gladly accepting any help with running the event. Get your work hours in on an easy day, where you can also participate. RSO's are strongly encouraged to work this event to help it run safely and smoothly. Last years work party did a GREAT job of running the event. With your help, we can make this year's event even bigger and better for all those who attend.
Contact: Darren Orzechowski (845) 235-6264.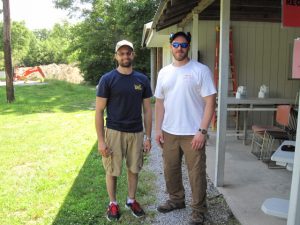 Pictured Above1st place 2016 Top Shot Danny Toombs, 2nd place Darren Orzechowski and 3rd place Bob Vogel , Sr. (not pictured).
Instructions
Poster Flyer
2016 Re-cap and News
–
As voted by members at our February meeting; issues regarding ATVs use;
The membership have established the following regulation:
ATVs are allowed, but must be: registered, insured with operator and passengers must wear a helmet, no promiscuous riding allowed.
–
Camping and Campers Policy

Bethlehem Rod and Gun Club
Camping Rules
Use of our facilities by members is encouraged, however, the use of the property and facilities must be shared.
Definition of a camper- travel trailer, motorhome, motorized vehicle that can be used as a temporary sleeping facility (truck camper or pickup truck with a camper shell).
Any motorhome, travel trailer, motorized vehicle used for camping must have a current motor vehicle registration and state inspection for the state in which it is registered.
Campers will be allowed to use the property during the approved camping season which will be April 1 to November 30th.
All camping on club property must be "dry camping". The term dry camping means there will be no physical hookups to club electric or water.
All campers will be kept on the Klein Property at the north end of the lake in designated areas.
The club grounds will not be used as a storage facility for camping units. Units left on the club property after the camping season dates will be towed from the property at the owners expense.
There are no restrictions on tent camping except that they will also be restricted to tent assigned areas, which will include the west side of the lake and the north end of the lake.
All camping areas will be kept clean, neat and in good order.
We as the camping committee will monitor the camping areas and campers that use the camp property and act accordingly if violations are found.
Committee Chair Ron D'Aprile phone@845-564-3557
–
Rifle/Pistol Range Times

Effective May 15, 2017 membership has voted to shut the Rifle/Pistol Range during Trap shooting. The range will be closed from 6pm to 9pm on Saturdays, Sundays and Mondays while Trap is in session. Should you have any questions contact Jeff Pearl.
–
–
Special Note:  Newsletter contributions for February need to in to Paul Stokes by 10th of this month.
–